Council Members
Our esteemed YPC members have been chosen based on their dedication to public service, their individual efforts to make a difference in their respective communities, and their potential to act as advocates for youth preparedness on a national scale.
We are pleased to present our 2013-2014 YPC members.
Jason Reed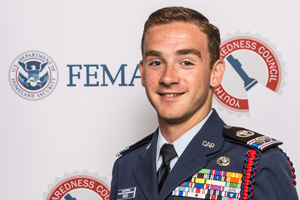 Region V
Mentor: Regina Moran
Jason is a Cadet Lieutenant Colonel and the Emergency Services Executive for Indiana Wing of Civil Air Patrol (CAP), the U.S. Air Force Auxiliary. He is actively involved in CAP's emergency services programs, serving for several years as a search-and-rescue ground team member, and currently cross-training as an aerial scanner / observer. He was a first responder for the devastating F-4 tornado that struck Henryville, IN, in March 2012, working alongside the local EMA departments, the Federal Emergency Management Agency, and many other state and federal agencies. He conducted health and wellness checks in the community, created perimeters around damaged areas, and distributed supplies to those affected by the storm. He received state-level recognition for his efforts following this disaster.
PROJECTS
Working with the regional and state YPC to implement Teen CERT and STEP within southern Indiana communities.
Working on starting a youth council in his region and set up a partnership with Always Ready Kids.
PUBLICITY
To reach Jason, please contact his mentor, Regina Moran at Regina.Moran@fema.dhs.gov .
Rachel Little
Region I
CPO: Donald Vincent
Rachel is a sophomore honor student who served a one-year term on the Massachusetts Governor's Council. As part of this group, she participated in Project 351, traveled to Boston to meet with other youth and worked with Cradles to Crayons, a group in the Boston area that collects clothing and other items for children in need. Also through the Governor's Council, she participated in the September 11 Day of Service and raised money for care kits for troops. During the school year, she raised money for Hurricane Sandy victims through the American Red Cross. Rachel works with the Street Angels, helping and caring for tornado survivors, and has participated in Step-Up Day, a program introducing eighth graders to the high school experience, and was a mentor for younger children who were struggling in school.
PROJECTS
Leading the effort to create a Teen CERT program in her high school.
Received the Excellence in Community Preparedness award at the 2012 Lt. Governor's "Be Prepared" Awards Ceremony.
PUBLICITY
To reach Rachel, please contact her Region I CPO, Donald Vincent at Donald.Vincent@fema.dhs.gov .
Gabriela Rodriguez Boria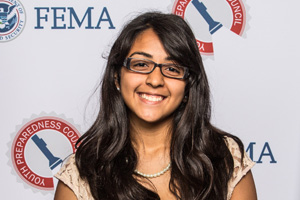 Region II
CPO: Eric Goldman
Gabriela is a volunteer for her local American Red Cross where she helps organize fire and tsunami drills and collects food and donations for Haitian refugees. She is a member of the juvenile pastoral group at her church and collects canned foods for a local homeless dining center. She is also an active volunteer with the American Heart Association and participates in physical activities that prevent heart disease.
PROJECTS
Developed a preparedness group called REACT. The group currently has 17 members. The group holds Preparedness Days: React Tours. They are also hosting events to raise money that will update the games and materials that they need.
Started a Teen CERT program in her school that now has 15-20 members.
In discussions with her local American Red Cross about incorporating preparedness into their next event.
Collected blankets to send to Hurricane Sandy survivors.
PUBLICITY
To reach Gabriela, please contact her Region ll CPO, Eric Goldman at eric.goldman@fema.dhs.gov .
Sophie Friedfeld-Gebaide
Region II
CPO: Eric Goldman
At the age of 12, Sophie Friedfeld-Gebaide traveled with her family to Cedar Rapids to help with Mississippi flooding relief efforts. At such a young age, Sophie was already being recognized by All Hands, a volunteer organization, for her responsibility and volunteering abilities. After Hurricane Sandy, Sophie and a few of her peers organized several fundraisers that raised more than $38,000 for All Hands disaster relief funds. She also donated a percentage of her Bat Mitzvah gifts to All Hands. Sophie has been involved in organizing food and clothing drives for local shelters and has created a Facebook group to organize All Hands volunteers.
PROJECTS
Establishing a disaster preparedness video contest on Youtube.
PUBLICITY
Alex Pasculle
Region III
CPO: David Thomason
Alex Pasculle, named "Volunteer of the Year" by IN Community magazine, has been actively involved in emergency preparedness since 2010. Alex volunteers as a firefighter, Basic Life Support (BLS) instructor and Emergency Medical Technician (EMT). He uses his CPR and first aid skills as an American Red Cross volunteer. Alex is also involved in disaster relief, helping organize a fundraiser with Kids Helping Kids to raise money for the Japanese tsunami victims.
PROJECTS
Setting up an Emergency Management Day or Fair in his local community of Pittsburgh.
Louyankkah Justilien
Region IV
CPO: Candace Burrell
Louyankkah Justilien is an active participant in national conferences, workshops and community projects. Louyankkah was a voting delegate at a recent NAACP National Convention in Texas and takes on various leadership roles in school activities. As a trained and certified CERT member, she attends local disaster exercises, participates in CERT community outreach and continues to learn about preparedness through online FEMA and Citizen Corps trainings.
PROJECTS
Coordinating a youth preparedness booth at Florida's Butterfly Festival.
Developing and facilitating a pet preparedness event for youth in her area.
Daniel Wernsman
Region V
CPO: Mary Rhedin
Daniel Wernsman's connection to youth preparedness stems from his involvement in the Responding to Emergencies and Disasters with Youth (R.E.A.D.Y.) club since 2009. Daniel has taken responsibility for several R.E.A.D.Y. initiatives, including a project that teaches CPR to individuals and local schools. Daniel participated in the Homeland Security's Faith Based Conference "Creating a Culture of Preparedness Amongst Youth," gave a presentation on first aid and triage to middle school students and led an effort to collect personal items for a local homeless shelter.
PROJECTS
Continuing his work with the READY program in Wisconsin.
Hold presentations to certify classmates in CPR and AAD.
PUBLICITY
Jonathan DeLong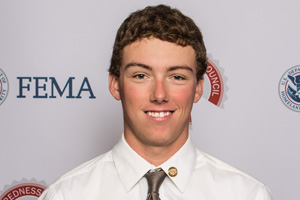 Region VI
CPO: Shari Brand
At age 7, Jonathan began volunteering weekly with a local animal rescue group. When Hurricane Katrina hit New Orleans, he helped gather supplies for rescued animals and donated his own toys for kids who needed to stay in the shelters. Following these experiences, Jonathan attended the City of Austin CERT training, obtained his ham radio license, and assisted in the communications room at Austin's Emergency Operations Center during Hurricane Gustav. Last summer, Jonathan was one of 27 youth in Texas nominated to attend a leadership training camp for Teen CERT. On December 1, 2012, Jonathan volunteered for an Urban Shield exercise (a multi scenario full-scale disaster preparedness exercise with 1,000 volunteers designed to test responder skills at handling an incident involving contamination, mass injuries and casualties) in Austin, TX.
PROJECTS
Implementing a Teen CERT program in his high school.
Working to include a summary of YPC efforts into his high school's yearbook.
PUBLICITY
To reach Jonathan, please contact his Region Vl CPO, Bill Bischof at Bill.Bischof@fema.dhs.gov .
Emily Rosenblum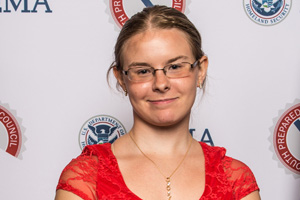 Region VII
CPO: Rodney Odom
Emily Rosenblum's passion and dedication to emergency preparedness is demonstrated through her involvement with CERT and other community groups. As a Teen CERT instructor assistant, Emily participates in numerous countrywide disaster exercises, is an active Teen CERT spokesperson and continues to advocate disaster preparedness at her high school. Emily always considers those with learning disabilities and access and functional needs when making decisions during disaster response exercises. She has also volunteered hundreds of hours to helping the Boy Scouts of America with merit badges and award requirements, in addition to the Sam "Ready I Am" program that educates youth about natural disaster hazards. Engaging the theatre group at her school to put on a school assembly about preparedness and finding a way to incorporate social media.
PROJECTS
Engaging the theatre group at her school to put on a school assembly about preparedness and finding a way to incorporate social media.
PUBLICITY
Nimansha Jain
Region III
CPO: David Thomason
Nimansha uses her experiences as a member of the Ralston Fire Explorer's Unit to encourage other youth to be prepared for fire and medical emergencies. She is certified in CPR and works with the University of Nebraska Medical Center and Eastern Nebraska Office on Aging to promote public health and preparedness. Nimansha uses social media to help share information on emergency preparedness and gets the word out on various volunteer opportunities for youth. On a legislative side, she represents the youth perspective behind these issues through her appointment on the NE Governor's Youth Advisory Council and Omaha Mayor's Youth Leadership Commission.
PROJECTS
Developing a website about preparedness. The site will include basic preparedness tips, blog posts, and information about YPC activities.
Working with SERVE Nebraska and the Salvation Army to compile activities for students.
Participating in October 8th Iowa Homeland Security Conference
PUBLICITY
To reach Nimansha, please contact her Region III CPO, David Thomason at David.Thomason@fema.dhs.gov .
Ashley Houston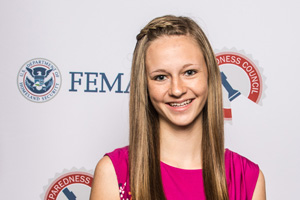 Region VIII
CPO: Daniel Nyquist
Ashley is an outstanding student and, as a member of the Health Occupations Students of America organization, has completed the Teen Student Emergency Response Training at her high school. She worked with her family to put together 72-hour packs for all of the members of her household and to create an escape plan in case of fire, flood, or other disaster. Currently, she is working with a neighborhood response team where people would be assigned to identify problems and check on neighbors in the event of a disaster.
PROJECTS
Participating in her school's Teen CERT program and is working on expanding it to other schools in her area.
Organized a preparedness event at her school in October 2012. Her local CERT team conducted demonstrations at the event. She hopes to make this an annual event.
PUBLICITY
To reach Ashley, please contact her Region VIII CPO, Daniel Nyquist at Daniel.Nyquist@fema.dhs.gov .
Divya Saini
Region IX
CPO: Angela Nak
Divya participates in the Block Preparedness Coordinator Program and volunteers at local neighborhood emergency preparedness events to encourage preparedness and teach individuals what they should do before, during, and after an emergency event. She has developed a Facebook site for emergency preparedness, and she is the founder of Movers and Shakers, a teen club designed to help keep Palo Alto resilient and form a stronger bond between adults and teens through earthquake preparedness. Divya recently received the "Do Something Seed Award" from the Palo Alto School Board to help provide emergency kits to low-income families. Divya also recently won the Disney Friends for Change Grant for her Block Preparedness Coordinator work.
PROJECTS
Speaks at several events about the importance of preparedness including many Rotary Clubs, Girl Scout Troops, and schools, and at School Board and City Council about my initiatives.
Invited by the executive staff of the Girl Scouts of Northern California to speak at the Annual NorCal Girl Scout Conference in Fairfax, California where she shared the importance of preparedness, and how to begin your preparedness education.
Won grants including: Do Something, Disney Friends for Change, Best Buy, Palo Alto School Board largely for her Block Preparedness Coordinator Program work.
Leads a group of over 30 members for Movers and Shakers club to train them on how to bring the emergency preparedness club to their schools, as well.
Designed and led "Preparedness 101 Class for Kids". The class became a HUGE hit in my city, and over 40 kids showed up with family to the class. Due to very high demand, I will be teaching this class regularly from now on. I worked in collaboration with my City's Course Catalog to get this class implemented.
Creating a certification program in Palo Alto for teens comprised of a checklist of activities and a one-hour course.
Working with her school system to integrate preparedness content into the curriculum.
Recruited 30 teen volunteers to participate in Palo Alto's annual "Quakeville" fair to promote preparedness.
Organized a preparedness training session for children aged 7-12 in January 2013.
PUBLICITY
To reach Divya, please contact her Region IX CPO, Angela Nak at angela.nak@associates.fema.dhs.gov .
Tiffany Espensen
Region IX
CPO: Angela Nak
Tiffany is a Teen CERT graduate who is active in the program: participating in numerous drills and classes, helping teach skills to other youth, and promoting CERT in interviews. She stars on Nickelodeon's "Bucket and Skinner" show currently airing on Teen Nick. She has more than 16,000 Twitter followers and over 1,000 Facebook likes on her fan page, helping her share the word through social media. Tiffany attends high school and is working two full grade levels ahead and has a black belt in Wushu, a Chinese Martial Arts.
PROJECTS
Produces "TiffyTipTuesday," a Twitter event where she posts preparedness tips. She is working with her school, CERT members, and others to post her tweets on their websites. Her Twitter account has over 16,000 followers to date.
Helping to promote Teen CERT in her state and beyond through social media and by speaking at schools and for children's organizations.
Working on creating a preparedness day for Fall 2013. She attends emergency drills, meeting and events throughout Southern California to gather ideas and other CERT members to get them involved in the fair.
PUBLICITY
To reach Tiffany, please contact her Region IX CPO, Angela Nak at angela.nak@associates.fema.dhs.gov .
Christian Bowen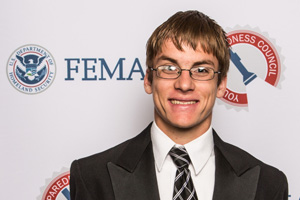 Region IX
CPO: Angela Nak
Christian has participated in two community evacuations in Hawaii because of tsunami warnings. After discovering that his family's go-packs were insufficient, he updated their packs and kits. Christian is also a trainer for Hawaii's "Feeling Safe, Being Safe" program, working with individuals with disabilities to prepare for emergencies. As a trainer, he helps people build an emergency backpack and explains why each item is important. He is considering combining his "Feeling Safe, Being Safe" work with the needs of his local high school, which has a significant population of students with disabilities. Christian is a Life Scout who has completed the Emergency Preparedness Merit Badge.
PROJECTS
Creating an online forum for teens to talk about emergency preparedness and to share ideas, tips, and experiences. He is focusing on starting at the local level.
Working with Divya to create a Region IX Facebook page that will highlight community preparedness initiatives.
PUBLICITY
To reach Christian, please contact his Region IX CPO, Angela Nak at angela.nak@associates.fema.dhs.gov .
Cayman Kirkhart
Region X
CPO: Fred Bretsch
For his Eagle Scout leadership project, Cayman designed, planned, organized, and publicized "Be Prepared Day," a community-wide disaster preparedness event that featured a series of classes and demonstrations to educate families about disaster preparedness. This 4-hour event required nearly 7 months of planning and coordination with personnel from 13 organizations, including local fire, rescue, and police units; the American Red Cross; the National Guard; the Coast Guard Auxiliary; the Health Department; and the Office of Emergency Management. "Be Prepared Day" was featured in the March issue of Boy's Life.
PROJECTS
Working with other YPC members to create a YouTube video channel that includes youth videos about emergency preparedness.
PUBLICITY
To reach Cayman, please contact his Region X CPO, Fred Bretsch at Fred.Bretsch@fema.dhs.gov .
YPC Alumni
Rebekkah McCaleb, Council Chair
Dorian Tre'Vaughn Gregory, Region VI
Benjamin Cooke, Region IV
Donald "Diesel" Embry, Region III