Preventing House Heating Fires
Preparing for Power Outages
Winter Travel
Tips for Your Specific Needs
Additional Resources
Being #WinterReady means understanding winter risks you face and taking steps now to prepare. This page will be updated throughout the winter to add more resources and information.
Why should you be #WinterReady?
Home heating is the second leading cause of home fires, and winter is when most home fires happen.
Travel during the winter has unique risks, especially if you travel by car.
Prevent Carbon Monoxide (CO) poisoning. Install a CO detector and check that it has a working battery. Have your heating system checked by a qualified professional. Never use a gas range or oven to heat your home.
Home heating is the second leading cause of home fires, and winter is when most home fires happen. Download the free Home Fire Safety Guide from the U.S. Fire Administration for ways to keep your home safe from fires.
Get your car ready for cold weather. Service the radiator and maintain antifreeze level; make sure your tires are in good condition. Keep an emergency kit in your car including blankets, food and water, first aid, and other items you may need if you are stranded
Preventing House Heating Fires
Although trending downward since the early 1980s, heating fires remained the second leading cause of home fires in 2021. An estimated 32,200 home heating fires were reported to fire departments within the United States. These fires caused an estimated 190 deaths, 625 injuries and $442 million in property loss.
Image
Keep anything that can burn at least three feet from all heat sources including fireplaces, wood stoves, radiators, portable heaters or candles.
Always plug space heaters directly into an outlet, and make sure its cord isn't damaged or frayed.
Never use an oven to heat your home.
Maintain heating equipment and chimneys by having them cleaned and inspected each year by a professional.
Visit the U.S. Fire Administration Home Fires page to learn about how to prepare for and prevent home fires including tips for individuals with disabilities and older adults.
Learn more about preventing fires.
Preparing for Power Outages
Winter storms may bring power outages that can disrupt things like communications, utilities, transportation, stores, gas stations and ATMs, and prevent your ability to use electrically powered medical devices. It's important to be prepared for power outages.
Image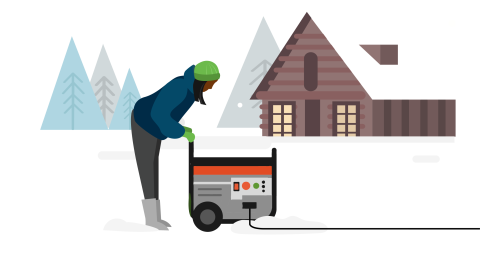 Keep freezers and refrigerators closed. Throw away any food that has been exposed to temperatures 40 degrees or higher for two hours or more, or that has an unusual odor, color or texture.
If you use a generator, ONLY use it outdoors and away from windows.
Do not use a gas stove or oven to heat your home.
Disconnect appliances and electronics to avoid damage from electrical surges.
Have alternate plans for refrigerating medicines or using power-dependent medical devices.
Go to a community location with power if cold is extreme and you can't heat your home.
Get more power outage tips.
Some people may have generators that they rely on during outages. Learn how to use your generator safely.
Stay Safe During Winter Travel
Travel during the winter has unique risks, especially if you travel by car. Being prepared can help you "expect the unexpected" so your trip isn't ruined by common problems travelers face in the winter.
Know before you go
From blizzards, to avalanches, to ice storms, be aware of the winter risks in places you visit. Check the local weather forecasts and warnings before heading out. Visit National Weather Service for up to date forecasts and download the FEMA App for alerts in up to five locations.
Check your local weather and traffic reports before heading out.
If your roads are not in good shape, consider postponing non-essential travel until the roads are cleared. If you do have to go out, make sure you are prepared in case you become delayed while traveling.
Tell others your route and anticipated arrival time.
Want more tips on travel safety? Watch this PSA, made in partnership with FEMA and the TSA, for additional tips on travel safety.
On the Road
Image
Make sure your vehicle is in good working condition before you travel.
Keep your gas tank as full as you can. A full tank will also keep the fuel line from freezing.
Install good winter tires and make sure they have enough tread, or any chains or studs required in your local area.
When driving, increase your following distance from 3-4 seconds to 5-6 seconds. It takes longer to slow down and stop on icy roads.
Every vehicle should have an emergency supply kit in the trunk. Kits should be checked every six months and expired items should be replaced regularly.
Keep family and emergency phone numbers, including your auto insurance provider and a towing company in your phone.
Consider keeping a power bank for your phone in your car in case your car loses power.
If stranded, run the engine for about 10 minutes per hour to run the heater and charge your cellphone. Open a window slightly to let fresh air in and avoid carbon monoxide (CO) poisoning.
Tips for Your Specific Needs
Some people have situations that need a little more attention. Whether you need low-cost solutions for home heating, are and older adult, work or play outside, or don't typically experience winter weather, we have tips for you.
"Low Cost Tips for Keeping your Home Warm"
Image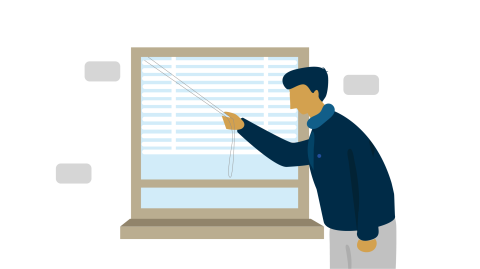 To save on heating bills, close the doors of rooms you are not using. Close the vents and shut the doors in these rooms and keep the basement door closed. Place a rolled towel at the bottom of all doors to keep drafts out.

About 30% of a home's heating energy is lost through its windows. Keep window coverings like blinds or curtains open during the day to take advantage of the sun's heat in the winter – especially windows that get direct sunlight. Close them at night to keep heat from escaping. If you have gaps around the windows, try using weather stripping or caulk to keep the cold air out. You can also apply inexpensive window insulation kits that create an airtight seal around windows.

You may be eligible for the Low Income Home Energy Assistance Program (LIHEAP) which can help you pay your heating bills or get emergency services during an energy crisis. For home improvements that save money on energy, you may qualify for help through the Weatherization Assistance Program (WAP).
"I am an older adult."
Image
The CDC recommends friends, family members, or caregivers follow some tips on keeping an older adult safe during the winter months:
Engage your support network if you need help clearing ice and snow from your property so you can keep outside walkways and steps clear of snow and ice.
Low lighting is a major cause of falls, so make sure there is enough lighting outdoors, especially near walkways and stairs.
Have the name and contact information of a nearby family member or friend who can regularly check in on you.
Make sure your steps are sturdy and have textured grip to reduce falls if the weather is icy or wet.
If you use walking aids such as a cane, walker, or a wheelchair, dry the wheels or tips of each before entering your home.
Keep a small table or shelf near the entry door to put items while unlocking the door. This reduces distractions and dangers of slipping or tripping while trying to enter your home.
If your home's main entrance is often icy during the winter months, use a different entrance if you can. Stay warm by dressing warmly, and remember to eat enough food to keep yourself at a healthy weight.
"I work outside or frequently do outdoor sporting activities."
Be careful if you spend time outdoors, including for work. Always have a fully charged cellphone and carry a portable recharger, if possible.
If you cannot avoid extremely cold situations – including windchill – follow these recommendations to protect yourself:
Wear several layers of loose clothing. Layering provides better insulation.
Make sure to protect the ears, face, hands and feet in extremely cold weather. Boots should be waterproof and insulated. Wear a hat; it will keep your whole body warmer.
Move into warm locations during work breaks and try to limit the amount of time outside on extremely cold days.
Carry cold weather gear, such as extra socks, gloves, hats, jacket, blankets, a change of clothes and a thermos of hot liquid.
Avoid touching cold metal surfaces with bare skin.
"I live somewhere that doesn't usually see extreme winter weather."
Image
Turn off and drain the water from outdoor water spigots. Disconnect and drain garden hoses and store them in a garage or shed.
Additional Resources
This list will be updated throughout the winter to add more resources as they become available.
Social Media Toolkits
Staying Warm
Winterproof Your Home
Resources for Kids
Winter Travel Safety
Winter Preparedness Flyers
Winter Safety
Case Studies
FEMA Podcasts, Webinars and Blogs