COVID-19
Social Media Graphics
Social Media Messages
The "It's Not Luck" campaign contains safety and preparedness messages you can share on your social media channels. You can either copy these messages directly or customize them to reach your audience.
To be used throughout March, in association with St. Patrick's Day, the campaign asserts that no one should rely on luck when it comes to being prepared for disasters and emergencies. Don't leave disaster prep to chance.
The first steps to being prepared:
Image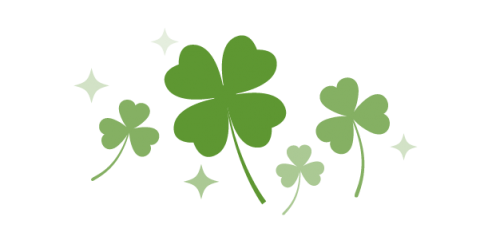 Coronavirus (COVID-19)
This year due to the ongoing coronavirus pandemic, you may not be able to participate in traditional St. Patrick's Day activities or parades. But you can still pay tribute to the Irish traditions by taking time to make sure you've taken steps to prepare for disasters that may happen in your area.
It's important for everyone to continue using all the protective measures available to help stop this pandemic. Cover your mouth and nose with a well-fitted mask when around others, stay at least 6 feet away from others, avoid crowds, avoid poorly ventilated spaces, and wash your hands often. Get a vaccine when they are available to you in your area.
Social Media Graphics
Help spread the word, "It's Not Luck!" The Ready Campaign has graphics that you can use to encourage others to prepare for disasters and emergencies.
Each of these graphics combine disaster preparedness tips, with more traditional St. Patrick's Day related messages. So, you can customize these items throughout March.
Hashtags & Emojis
#ItsNotLuck
#BeReady
Feel free to add some fun emojis, like a shamrock, on your mobile phone keyboard to your social messages.
Social Media Messages
Sign up for emergency alerts to receive life-saving information from your state and local municipality. www.ready.gov/alerts
Let your go kit be your lucky charm. Make a go bag today. www.ready.gov/kit
An insurance policy really can be your lucky charm. Get financially prepared www.ready.gov/financial-preparedness
During an extended power outage, ATMs and credit card machines may not work. Don't rely on luck. Include cash in your emergency supply kit. www.ready.gov/financial-preparedness
Get prepared by having an emergency supply kit already stored. www.ready.gov/kit
Learn how to shut off the utilities at home, including water, electricity, and gas.
Plan how you will leave and where you will go if you are advised to evacuate.
Remember your pets in your plans! www.ready.gov/evacuation
Snap photos of important documents and save them online or in a secure place you can access during an emergency.
Set up group text lists so you can communicate with friends and family at the same time during emergencies.
Have external power sources available to charge phones and other devices in case of a power outage.
Create a budget that includes an emergency savings fund. www.ready.gov/financial-preparedness
Spring Weather Safety
Flood insurance takes 30 days to take effect. Don't wait until it's too late. Purchase and review your plan now to protect your family for the future! www.ready.gov/financial-preparedness
Heavy rain to areas that have been experiencing drought can cause flash flooding. Learn how to prepare: www.ready.gov/plan
Tornadoes can be extremely dangerous. Safe places include storm shelters and basements — but if not available, an interior room without windows can also be protective. If you receive a tornado warning, take shelter immediately! www.ready.gov/tornadoes
What does being Ready look like? When it comes to tornadoes, it means knowing your 'safe place' and practicing going there well before severe weather arrives. www.ready.gov/tornadoes
Severe weather can knock out power. Be prepared by gathering supplies for each household member.
Avoid carbon monoxide poisoning. Only use generators and grills outdoors and away from windows. Never heat your home with a gas stovetop or oven.
Backup power can keep you connected during an emergency. Have alternative power sources on hand to power your devices in case of a power outage.
Anywhere it rains, it can flood. Learn your risk level for floods by entering your address at https://msc.fema.gov/portal/search
Severe weather can happen at night. Be weather aware. Sign up for emergency alerts to receive life-saving information from your state and local municipality. www.ready.gov/alerts
Be weather aware, before, during and after severe weather. Sign up for emergency alerts to receive life-saving information from your state and local municipality. www.ready.gov/alerts